July 4, 2013
Some days start out well and some not so well.
We both woke up early. OK, I woke up and started packing, that might have helped Dendog wake up too. I slept really well. Amazing how the Thermarest (with extra air) protected me from the underlying gravel. We both have good equipment. The Robaxacet and Advil PM might have helped me sleep. Custom fitted ear plugs from Costco help too.
If the mosquitoes were bad the night before, they were ridiculous this morning. The Swiss couple broke camp, said goodbye and hit the road.
After we were packed up we checked our oil and Dendog noticed that mine was low. My bike is a dry sump with a sight glass. Odd combo. I started it up and the low oil light came on. We went across the street to the restaurant / wood shop / hotel / anything and they sold me a liter of car motor oil. Since this was all we had and we were 200km from anything else, we took it and added it to my bike. Oil light is now out and we proceed. A customer outside the store told us of a bike shop in Fort Nelson.
Nice peaceful ride to Fort Nelson where we found the "motorcycle" shop. It's actually a Polaris dealer / rad / muffler shop. Great people. He got me some Amsoil 10w40 (a few spare liters) and changed the oil after I explained the silly dry sump configuration and showed him the owner's manual to prove I wasn't crazy. We were out in an hour. That's great service and I am appreciative. Turns out, we may not have needed it at all, but better safe than sorry.
While there, I noticed a guy at the gas station next door with the same bike and the same suit as me. He was from Colorado and was on his way back south. He had all of the Touratech ($$$) gear including the seat. I was envious of the seat. My Airhawk / Alaska Sheepskin combo is working well. Dendog may need some more help. This guy wasn't my new best friend as we wasn't very talkative.
The guy that fixed the bike told us that the roads really changed about 50 km north of Fort Nelson. Oh WOW he was right. Really glad it was a fairly short day as the roads were beautiful. Twisty, elevation changes, scenery like I have never seen before. We even saw wildlife. Some goats on the road. We stopped and I took pictures. An RV was approaching quickly so I tried to wave him to slow down. He waved back and then hit the brakes hard.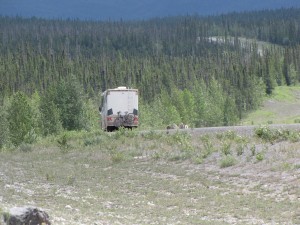 This is a challenging but beautiful ride. It would be awesome as the passenger in a convertible. Seriously. You should drive this road.
Liard Springs was really nice. We visited the hot springs twice. I saw two moose from the boardwalk and Dendog saw three.
Our second Mountain House meal was lasagna. For the record, we have enjoyed the MH food.
Mosquitoes, mosquitoes, mosquitoes. Bad at night.
Beautiful day. We are lucky dudes. Still can't believe we are doing this.